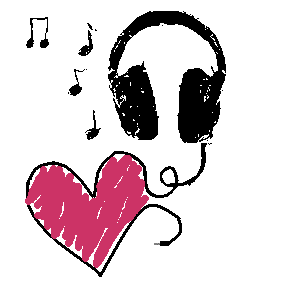 (UPDATED 2013 VERSION WITH 10 NEW SONGS: http://fudgeperfection.blogspot.ca/2013/05/updated-top-ten-stay.html?m=1 )
Hey dolls <3
I'm planning a much bigger post for tommorow, but just to make sure you know I'm still breathing, I wanted to give you my top 10 favorite pick-me-up-off-the-floor-when-I-feel-like-dying songs :)
Remember it's a lot healthier to drown your problems in music than drugs, alcohol, food, draino, whatever :)
MY TOP 10 FAVE TUNES TO STAY STRONG (not in order of preference)
1. Invincible, by Hedley
Listened to this song x10000 times, and it litterally made me want to get better
Plus, the singer of this band is the <3 of my life
2. I Won't Give Up, by Jason Mraz
Such a beautiful slow song, so raw and cute :)
3. Shake it Out, by Florence + the Machine
You would think by now that I'd be sick of this anthem, working on the video from this song
http://www.youtube.com/watch?v=8VL9-niO8Ew
, but somehow it sounds fresh and captivating everytime I listen to it, just like the first time.
4. Teenagers, by My Chemical Romance
Classic I-wanna-break-a-window teenage angst tune :)
5. Skyscraper, by Demi Lovato
Need I say more? :P
6. Walk, by Foo Fighters
This is such an amazing, head-banging song. You feel like going out and signing in the rain :)
7. What Doesn't Kill You (Stronger) by Kelly Clarkson
You all know it, it's pretty recent and super upbeat.
8. Every Teardrop is a Waterfall, by Coldplay
I considered using this tune for the promo vid, and though it didn't make the cut, I always feel like spinning in circles when I hear this awesome jam.
9. 9 Shades of Red, by Hedley
Do you see why I love this band? I could do a whole post on their great survivor songs.
Tweet the lead singer here and tell him I sent u <3 @JacobHoggard
10. Fkin Perfect, by P!nk
Check out the video for it, super cute and close to home <3
All right loves,
See you tommorow and keep the love flowing:)
xoxoxox
Gabby